Working with us at St George's School, Edinburgh
At St George's School, we're constantly on the lookout for exceptional talent to join our vibrant community. If you're seeking high-quality and rewarding teaching jobs in Edinburgh, we encourage you to consider us as your first choice.
We strongly believe that St George's is an exciting and great place to work. From the earliest age, pupils here are intellectually curious, eager to take up opportunities, and generous-spirited. That's why working at St George's as a teacher or staff member is energising, challenging and fun.
Our colleagues genuinely enjoy working with young people and are proud of being part of St George's wider community.
There's no 'typical' person who works here. Because appreciating innovative ways of thinking and a variety of perspectives is in our DNA.
You can expect a competitive remuneration package with employee benefits, and a warm, inclusive and positive working environment.
Our campus aerial footage
A wonderful learning environment. Take a bird's eye view of the campus with our aerial video footage. You will see our beautiful grounds and buildings.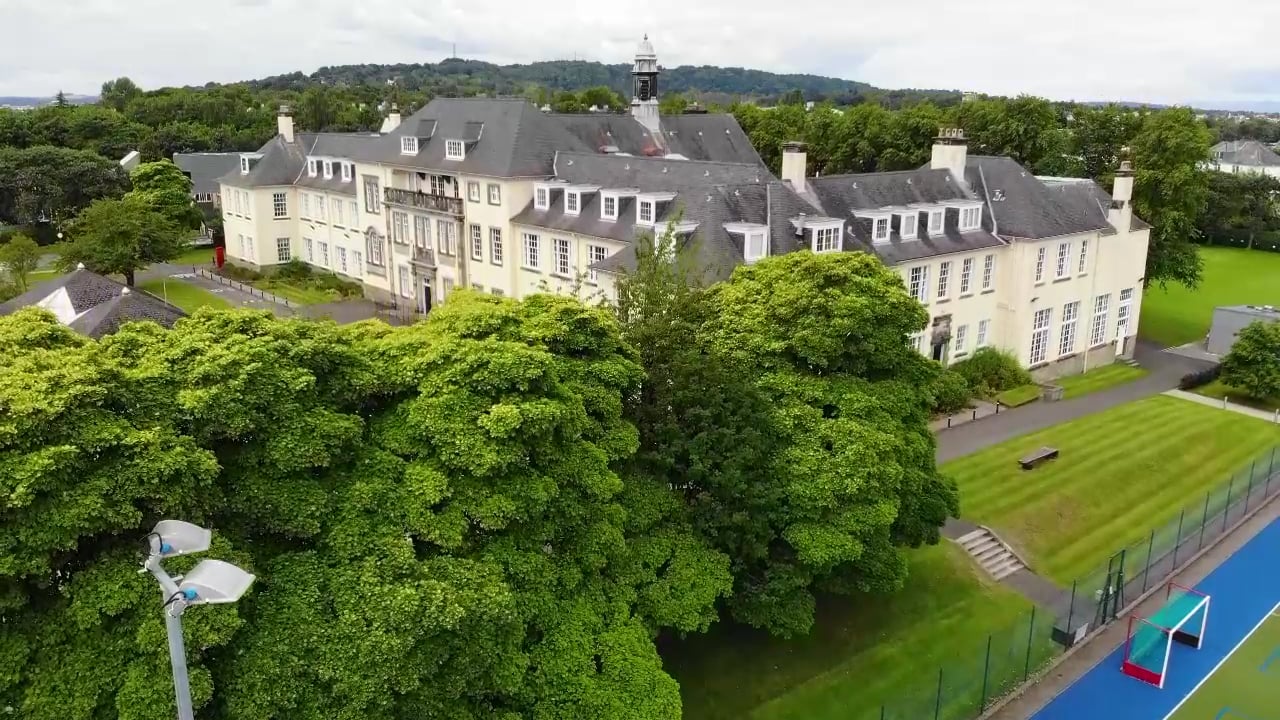 Welcome
Dear applicant,
Thank you for considering joining our welcoming school community at St George's in the beautiful city of Edinburgh. I have the great privilege of leading a dedicated and loyal team of staff who are committed to providing an inspiring environment for our sparky, confident and kind girls to grow up, learn and develop in. We teach and learn within a beautiful campus which inspires us every day.
Whether it is the panoramic views of Edinburgh from our Upper School library windows, the secret leafy hideaway of our Fantastical Forest or the creative corners of the dedicated Arts buildings, the school is buzzing with the hum of activity and debate. St George's has been dedicated to educating girls since 1888, and the same guiding principles of boldness and vision sit at the heart of the school, albeit in an entirely different and modern context.
We welcome applications from potential staff who genuinely enjoy working with young people and who are committed to providing a warm and inspiring environment designed especially with girls in mind. Our school community is one where every individual is valued and we welcome a range of perspectives and insights. We always seek to ensure the education that we provide sets our students up well for their futures and is sector-leading. If this sounds like the kind of school environment you would like to work in, please do apply and I hope to meet you in person soon.
Yours faithfully
Carol Chandler-Thompson
Welcome
Mrs Carol Chandler-Thompson
Head
Why Choose St George's for Teaching Jobs in Edinburgh?
Working at St George's comes with many perks and advantages. As one of Scotland's leading private all-girls schools, we take pride in ensuring our working environment is welcoming, dynamic and forward-thinking.
Choose St George's for
Our employees enjoy a competitive salary package, complemented with a comprehensive benefits programme.
At St George's, we treasure diversity and innovative ways of thinking. We welcome teachers and staff from various backgrounds and experiences, fostering a warm, inclusive working atmosphere.
The benefits of working at St George's
By becoming a part of our team, you will play an integral role in shaping the future of our students and enriching our school community. You'll enjoy the sense of camaraderie and shared purpose that comes with being part of St George's wider community.
Whether you're looking for a teaching job in Edinburgh or a private school teacher's job in Scotland, we invite you to consider St George's School.
Some of the benefits you can expect when joining our team are:
Reduced school fees and wraparound care at St George's School
Pension Contribution

Staff lunches

Access to school buses on school bus routes for all staff (small charge payable)  

Professional learning and development opportunities

Employee Assistance Programme

Generous annual leave entitlement

Cycle-to-work scheme

Opportunity to benefit from the use of the many school facilities; libraries; sports facilities etc

Death in service benefits all staff

Opportunities for teaching staff to apply annually to undertake a collaborative professional development exchange/visit with partner school (s) 
Opportunity to join our community and contribute to social, music, drama and other events and activities
St George's is more than a workplace; it's a community where everyone, irrespective of their role, is valued, respected, and plays a part in our success. We look forward to welcoming you to our team.

Our current vacancies
Take the first step towards an enriching career at St George's School by browsing through our current vacancies listed below. Links are included within the job descriptions so you can conveniently apply online.
Please note that we reserve the right to close the vacancy early if we receive sufficient applications for the position and recommend that applications are submitted early.
Sports Coaches

We are always looking for enthusiastic and motivated sports coaches to join our co-curricular sports programme. In particular, we are looking for experienced hockey, netball and lacrosse coaches and umpires. Positions are available for after-school hours (3 - 5.30 pm) and Saturday mornings (8 - 12 noon). These positions are particularly suitable for students at university. Please contact Christine Fourie, Director of Sport, T: 0131 311 8080, E: ccf@stge.org.uk.
Academic
Early Years Practitioner
Fixed Term January - August 2024
3rd December 2023
Support Staff
EDINBURGH COUNCIL - School Crossing Patrol Guide
Not employed by St George's. Reference number on myjobscotland is EDN25953.
4th December 2023
Facilities Assistant - Boarding House Cleaner
Part Time - Permanent
3rd December 2023
Supply Opportunities
We are looking to increase our bank of qualified supply teachers across Junior, Lower and Upper schools. Please fill in the form below to express an interest in being considered for our supply bank. Please only upload pdfs as attachments.
Please note (As of 1 October 2017) All teachers working in Independent Schools are required to register with GTCS in accordance with The Registration of Independent Schools (Prescribed Person) (Scotland) Regulations 2017.  Early Years Practitioners (EYP) We are looking to increase our bank of qualified Early Years Practitioners (EYP's) within our nursery. Please fill in the form below to express an interest in being considered for our supply bank. Please note that practitioners must be qualified and have full registration with SSSC at the appropriate point of the register.
Equality and Diversity Monitoring
St George's School aim to be an equal opportunities employer. No job applicant or employee will be treated more or less favourably on the grounds of age, disability, gender reassignment, marital or civil partner status, pregnancy or maternity, race, colour, nationality, ethnic or national origin, religion or belief, sex or sexual orientation. The form below is intended to assist us monitor the effectiveness of our Equal Opportunities and Recruitment Policies, to enable us to comply with the terms of the relevant discrimination legislation and to improve the attraction and retention staff from a diverse range of backgrounds.
We would be grateful if you would complete the questions on this form. There is no obligation to do so. We have asked for your name to enable us to monitor applications at shortlisting and appointment as well as application stage but if you do not wish to provide us with this information, there is no obligation to do so. It will be used only to provide statistics for monitoring purposes. Please email your form separately and not with your application form to hr@stge.org.uk