Set your Daughter up for Success with our Transition to Secondary Education
31 May 2023
Transition to secondary school has been identified by the World Bank Development report as one of the five most important life stage transitions for young people. A negative experience can affect how young people view secondary education and the development of their confidence. At St George's we have a uniquely tailored and well-thought-through approach to this period which sets our girls up for success and happiness.
Many girls join St George's in P6, P7 and S1, our Lower School which is a dedicated middle school campus. The size and scale of this campus is ideal – it's a welcoming environment that is easily navigated by our students.
Girls entering into our P6 year are taught by a class teacher who builds on their primary curriculum. Secondary education begins in P7, a year earlier than in most Scottish schools, when our girls are ready for the intellectual challenge of being taught by specialists in all subjects. As girls move from P7 to S1 there is an increased emphasis on individual learning and responsibility with many leadership opportunities.
We understand that our students are at a key stage in their development. The Lower School years are a time of significant physical change and social and emotional development. Girls mature at different rates, sometimes presenting new challenges for friendship groups and parents. We will always ensure the girls feel well-supported during this transitional period. The separate Lower School campus lets girls feel free to be themselves and start to build confidence and resilience. This is a truly unique offering for a 3-18 Edinburgh school. Our dedicated team are there to ensure each girl feels part of the St George's community.
The St George's Way
"Our individual approach allows us to get to know each pupil and their families, providing reassurance and support throughout this important chapter."
Head of Lower School


St George's has a unique structure in place to ensure a seamless transition from primary to secondary education. We understand that for girls joining us from a different school, this can be a daunting time. Our dedicated Lower School Team are on hand to provide support and a steady hand throughout each student's transition period. Each member of the team is experienced in managing and working with young people. The development of a sound process, coupled with our 'Open Door Policy' ensures that every girl is happy and comfortable in her new environment. Being at ease in their surroundings and familiar with teachers will develop their confidence and encourage independence, resilience and leadership – all vital skills for success in life.
Our Transition Programme
Taster Day: Pupils joining St George's have a full induction programme which includes joining a class for a 'taster day'. Girls are invited to spend a full day with a class in the year group to which admission is sought. This is a great opportunity for your daughter to experience a normal day at St George's and a chance for her to meet her peer group. A 'shadow' is appointed with whom your daughter will attend lessons, sports and activities.
Moving on Day: At the end of our summer term prior to starting, each girl is invited to a 'moving on day' with their new class where they will meet their teacher or form tutor before they begin. 'Shadows' are assigned to every new girl, and there are buddy teams in place to encourage new friendships across the three-year groups during the first weeks. A buddy 'shadow' can be there for as long or as little as is needed.
'Looking Ahead': These transition events, for both new and existing pupils, are initiatives whereby we spend time with each family on the campus before the term begins, allowing each new pupil to get their bearings and provide reassurance for the days ahead.
Our Structure
Due to the nature of our size, our classes remain small enough to ensure we can give individual attention to each child and they have an opportunity to have a voice in lessons. Our inverted pyramid structure that runs from P5 onwards ensures that there is always a favourable teacher-to-pupil ratio.
Our transition tutor is a key part of our Lower School team. Two days per week is dedicated by our transition tutor to supporting those moving from our primary to secondary teaching model. Their role is to encourage and support new and existing girls moving into Lower School.
Primary 6 pupils are taught on the Lower School campus by class teachers but have specialist teachers for Modern Languages, music, ICT, art and design, drama and physical education. This introduces them to the idea of Upper School, where there are different teachers for every subject.
In Remove (P7), the girls begin secondary education already familiar with the layout of the Lower School campus and many of their teachers. Although they have a form tutor whom they see every morning, they have lessons with specialist teachers who walk across to the Lower School from the main school campus across the road, meaning that they are familiarising themselves with the facilities and atmosphere of Upper School, but in a low key way.
Form tutors are in place for each class in each year group. As well as a familiar face, they will update the girls on a daily basis with any relevant information or changes to their day.
Each student is given a locker to keep their books and any other equipment in and time is set aside between classes for them to collect the books they need for different lessons. The aim of this is to ensure the girls feel calm and organised before the start of the next lesson.
During their Lower 4 (S1) year the girls become more familiar with the Upper School campus. Having spent time over P6 and P7 for extra-curriculum activities, sports and lunches at the Upper School campus mean it is demystified for the girls and they feel comfortable navigating between campuses.
Curriculum
We appreciate that children joining from other schools can be at a different stage of a curriculum therefore our small class sizes mean they can receive the right level of teaching. Our 'stretch and challenge' approach allows for differentiated teaching in each class. Additionally, our high level of individual attention ensures added value and enables our girls to achieve excellent results: they are highly motivated to achieve to the best of their ability. Our all-through curriculum takes account of breadth, balance and progression, and fosters social and personal development.
Extra-curricular clubs and activities
We place a strong emphasis on co-curricular activities. We have a vast array of clubs - ranging from fencing to Chinese, Hot Chefs to debating and orchestra to hockey or netball. The girls are encouraged to suggest further activities should there be a particular one they would like to try.
Girls are encouraged to participate in a wide range of activities which provide opportunities to pursue new interests and to learn new skills, but they also encourage new friendships across all-year groups. For those that are new to St George's these activities and clubs are fundamental to allowing them to feel part of the school.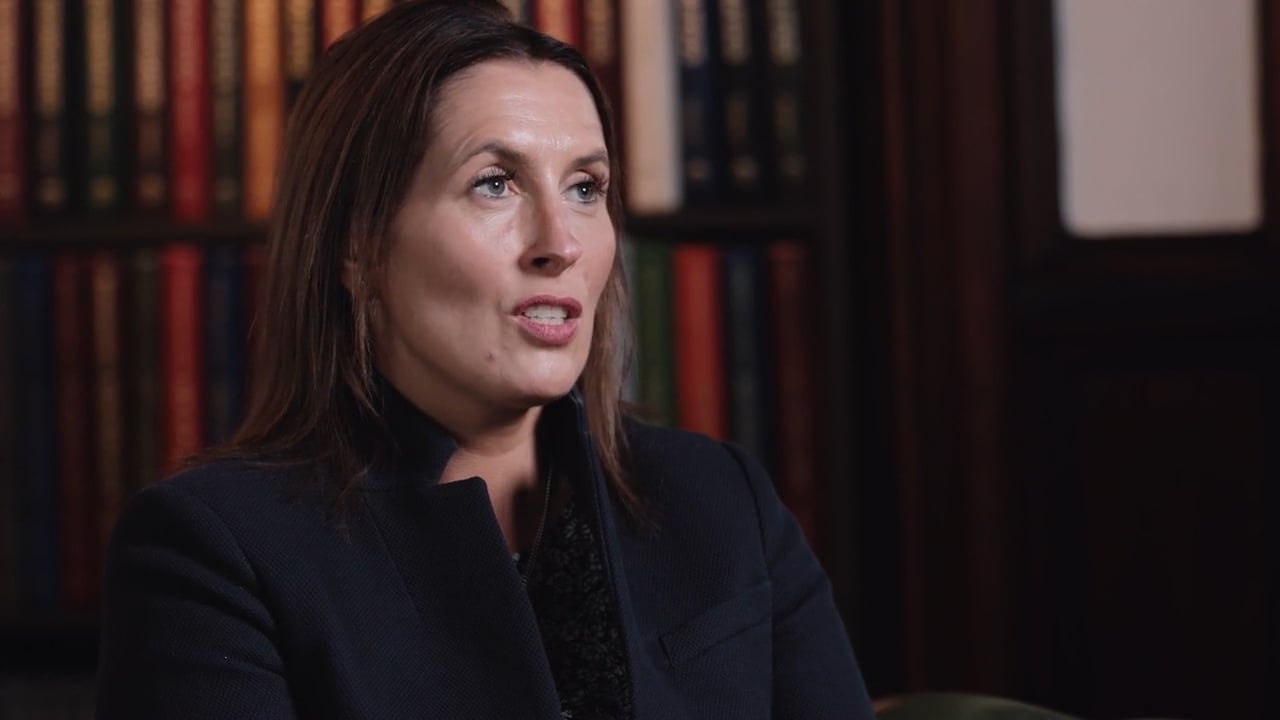 A parent's view of St George's.
When to apply for a place at St George's for a Senior School education
The ideal time to join St George's is on entering Primary 6, Primary 7 or S1.
Primary 6 girls have their last year of primary education in the new environment of Lower School.
Joining Primary 7 girls embark on the first year of secondary education, which is usually a year earlier than in most other schools in Scotland.
The final year of Lower School, S1 students, is another key entry point to the school. Girls benefit from the increased range of subjects in the curriculum and the responsibilities of leadership roles before moving to the new environment of Upper School.
Girls-only
St George's was founded in 1888 by the pioneers of women's education in Scotland and we are committed to the ideals of providing a school designed for girls. We are the only all-through girls' school in Edinburgh, and we have created an environment where each and every girl can thrive.
We firmly believe that a single-sex school has fewer social pressures, and our structure and approach is designed with the girls' needs and developmental stages in mind. We are experts at teaching girls. The girls are surrounded by positive role models and are free to excel at any subject, try out a variety of co-curricular options and broaden their aspirations and ambitions.
As one of Scotland's largest single-sex girls' schools, we are equipping our students with confidence, resilience and self-belief which they will carry on through into life.