The St George's music programme offers opportunities for all students to perform and develop their musical abilities. Nearly 70% of students play at least one instrument and hundreds of lessons take place each week.
Music Facts
23 different instruments learnt

28 visiting instrumental and vocal teachers

475 music lessons taking place each week
Curriculum
The curriculum focuses on performance, composition and listening skills targeted to improving confidence and developing creativity.
The school is an accredited Trinity and ABRSM exam centre and these exams take place on a termly basis within the school. Theory classes are also offered from beginner through to advanced levels.
Co-curriculum
Our co-curricular music ensembles embrace a diverse range of musical cultures, such as orchestras, wind bands, string ensembles, choirs, Rock Band, traditional music ensembles, guitar groups, flute groups, chamber groups, jazz band and more!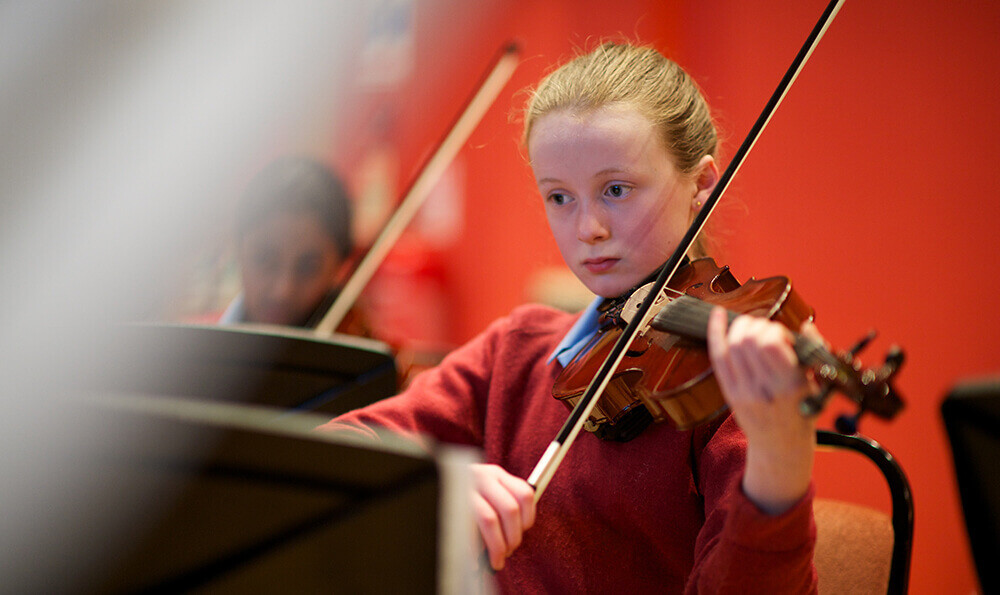 Facilities
The Music Department is housed in the purpose-built Robertson Music Centre; it is a friendly and busy place. There is a fabulous performance auditorium, a recording studio and a classroom which houses computers equipped with professional music software including Sibelius and ProTools software.
Teaching staff
St George's musicians are supported by dedicated full-time staff members and over 28 visiting instrumental and vocal teachers. Music tuition is available in a wide range of instruments.
Performance Opportunities
There are a plethora of fantastic performance opportunities from the termly concerts from nursery through to Upper School to the special Upper School Carol Service (St Giles Cathedral) and Lower School Carol Service to performance platforms, Lunchtime Recitals, Young Musician of St George's, Young Singer of St George's, musicals, choral concerts, nativities, Speech Day (St Mary's Episcopal) and more!
Singing to, listening to and making music can help toddlers to feel secure, especially if it forms part of a routine. For these reasons, the nursery children at St George's have a song for nearly everything – whether it be brushing their teeth, saying hello to a friend or celebrating the seasons! Devoted specialist music lessons occur weekly and performance opportunities, such as the Nursery Autumn Concert, Nativity and Spring Concert are just some of the fantastic music-making experiences that are available to children in the nursery at St George's.
Music covers a huge range of activities and we believe that the curricular and extra-curricular elements are inextricably bound together. Ensembles in the Junior School include Primary Strings (P4-P5), Junior School Choir (P3-P5), Junior School Guitar Ensemble (P3-5) and Junior School Recorder Group (P4-P5).
The Junior School Music specialist teacher introduces all students to the excitement and challenges of the subject, providing students with the skills they need to create and understand the language of music.
Individual tuition is an essential extension of musical activity for most pupils and helps them to explore and develop their musical abilities further and taster lessons are made available to all students.
A range of instruments are used for music making in lessons and Music Play software is available to children to develop their skills in using music technology.
Performance opportunities include Performance Platforms, musicals in each year group, Junior School Winter and Summer Concerts and more.
Co-curricular music ensembles include Lower School Orchestra, Choir, Flute Group, Off the Scale (traditional music), Rock Band, Musical Club and more!
Music lessons take place in the Lower School Music Room: a wonderfully bright space to learn in with over 20 keyboards, a Smart board, drum kit and an array of percussion instruments. The students are taught listening, performing and composing, through the study of a vast array of musical styles. A strong focus is placed on keyboarding skills and the exploration of the musical elements through music appraisal. Students will be taught to read and write basic musical notation and to play the keyboards with correct fingerings.
The Music Department at St George's is a busy one, but more importantly a friendly department with a wonderfully supportive environment.
A wide assortment of co-curricular musical opportunities are available such as Concert Band, Senior Choir, Rock Band, Orchestra, Off the Scale (traditional music), Flute Group, Senior Strings, Cantate, jazz band and more.
Students are introduced to the GCSE Music course concepts right from Upper 4 with the choice to take GCSE Music in Lower and Upper 5. Smaller class sizes enable teachers to properly support students in music making and allow students to properly explore the practical elements of performing and composing. Higher Music, Advanced Higher Music and Higher Music Technology courses are offered to Sixth Form musicians. Music theory and aural training are also offered in Grades 1-8.