We offer diverse and enjoyable sports opportunities that cater to all ages and abilities. Our commitment to accessibility and tailored activities ensures every student's individual needs are met. At the heart of our mission is fostering lifelong engagement in sports, instilling confidence, promoting health, and enhancing wellbeing. With a team of skilled PE teachers and specialised coaches, including former national-level players, we passionately compete across various sports. 
 Our reputation for outstanding attainment is well-earned, as our teams consistently excel across all levels of competition, propelling numerous pupils to achievements beyond the school sphere, reaching district and national recognition.
Our sporting offering is made up of two parts:
Physical Education curriculum
Sports co-curricular programme
Our programme
Diverse and enjoyable sports opportunities for all ages and abilities.
Tailored activities for individual needs and accessibility for all students.
Foster lifelong engagement, confidence, health, and wellbeing through sports.
Skilled PE teachers and specialist coaches, including former national-level players
Competitive participation in various sports.
Exceptional support for performance athletes at district, national, and international levels.
Pupils progress beyond school level, achieving district and national recognition.
Facilities
Onsite sports facilities:
Large all-weather astro-pitch
Two grass pitches
Athletics sprint track, long jump, and high jump area
Two outdoor Multi-Use Games Areas
Spin studio
Gym
Indoor sports hall
Offsite sports facilities:

Local Drumsheugh Swimming Baths
Keep up to date with all our Sports Fixtures and Results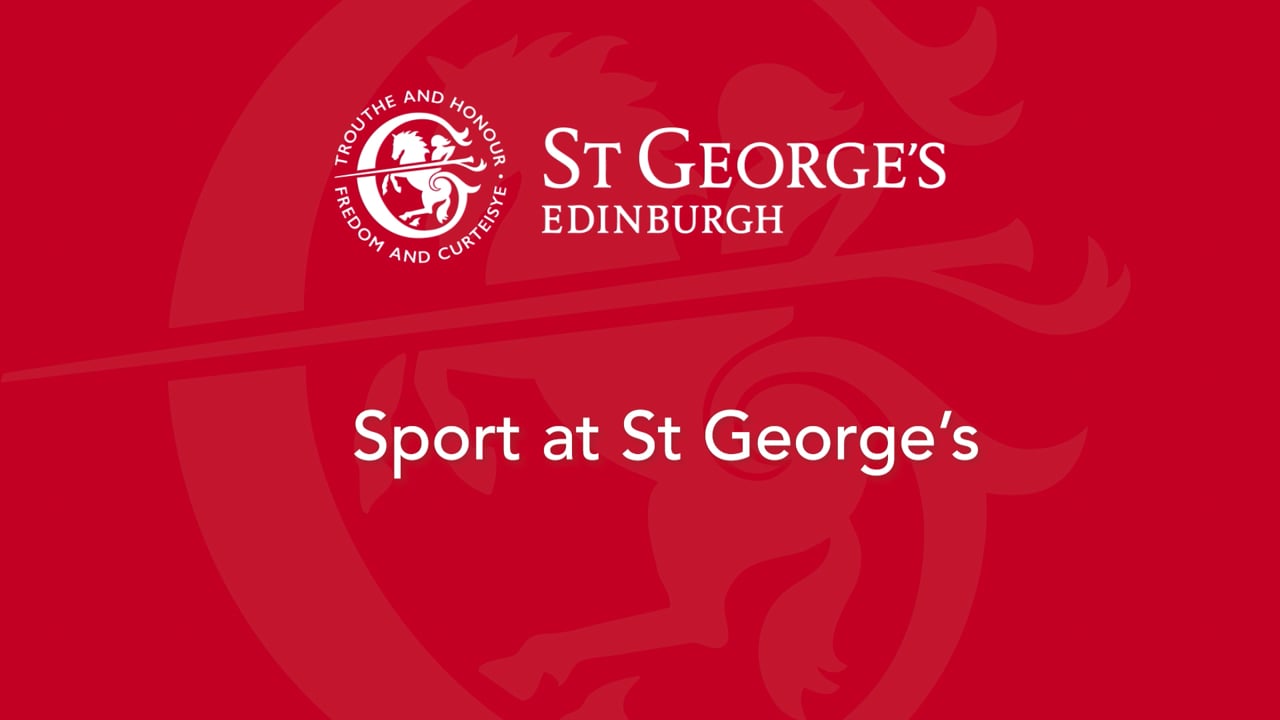 Sport at St George's
"The school has also been really supportive of my outside sporting commitments, especially playing cricket for Scotland at the first-ever Under 19 World Cup in South Africa."
Molly, Class of 2023
The Fundamental skills we cover are basic movements such as throwing, kicking, running, jumping, hopping, and catching.
Focus on fun, participation, inclusive, multisport, and developmentally appropriate activities.
Develop a wide range of movement skills, confidence, and desire to participate.
Every week, pupils have 3 PE lessons and there are also up to 4 free sports clubs.
Rotations of team games, individual sports, and aesthetic activities.

Encourage participation in multisport programme.
Up to 5 PE lessons for all year groups per week.
Wide range of sport clubs of co-curriculum sports clubs are available daily.
Weekly competitions for teams of all abilities throughout the school year.
National competitions, tours, and training camps.
Participation across all sports.
Occasional international events.
Broadened curriculum and range of sport co-curricular activities available.
Tailored Physical Education Curriculum and Sports Co-Curricular programme.
Afternoon sports activities with inter-school matches and tournaments.
Freedom of choice in selecting activities during PE.
Options for high-level performance, aesthetic and/or fitness-based activities.
Collaboration with teachers to design personalized programmes based on individual preferences.
All girls engage in high quality learning experiences to promote physical, cognitive and social development. Opportunities for participation and success are experienced by all students through our inclusive policy and diverse programmes.
Girls of all ages and abilities are encouraged to:
• Meet challenges positively
• Demonstrate perseverance and commitment
• Show respect to others
• Accept responsibilities and support others
All aspects of our provision are developmentally (and age) appropriate with the provision of personal learning opportunities taking priority.
Enjoyment, independence, cooperation and creativity are key factors used to promote learning and to develop positive attitudes towards participation in healthy, active lifestyles both now and in the future.