About TEDxYouth@StGeorgesEdinburgh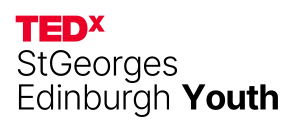 TEDx Youth St George's Edinburgh - The Voice of Possibility
We are delighted to announce that St George's will be hosting our first TEDx Youth event on Friday 3rd March 2023.
A TEDx event is a local gathering where live TED-style talks and performances are shared with the community. The content and design of each TEDx event is unique and developed independently. Our TEDx Youth event offers us an opportunity to create a gathering in our community that will unleash new ideas, inspire and inform.
One hundred guests will attend the event. We are partnering with a range of organisations for sponsorship.
St George's TEDx Youth event is focussing on women in Edinburgh:
Our theme: The Voice of Possibility
Date: Friday 3 March 2023
Time: 12.30- 16.30 The Voice of Possibility will include student speakers sharing their ideas, hopes and possibilities for the future, alongside researchers, doctors, celebrated artists and female role models from Edinburgh presenting about their work or lives and how possibility exists.
The speaker line-up is available to view here https://www.ted.com/tedx/events/52407
Sponsorship Opportunities
Being a sponsor provides the opportunity to publicise your company on the printed materials, social media related to the event and the TEDx Youth St George's Edinburgh website. There is an opportunity for a video to be created about the contribution from our sponsors that can be shared on the St George's and sponsor's social media accounts. It is also possible to have a 'marketplace' stall for the attendees to come and meet your company at the TEDx event on Friday 3 March 2023.
A range of sponsorship opportunities are available, from contributing refreshments for the attendees to financial contributions towards the advertising and filming costs.
If you would be interested in this opportunity, please complete this form https://forms.office.com/e/yq1FY2Ckr7
You can also contact Sonia Edwards on T: 0131 311 8000, E: sde@stge.org.uk
You can follow the build-up to 3 March 2023 on our TEDxYouth@StGeorgesEdinburgh social media channels:
Twitter https://twitter.com/TEDxYouthstge
Facebook https://www.facebook.com/TEDxYouthstge
The event will be available to watch on the TED website, and other social media platforms.
We are looking forward to hosting our first TEDx Youth event and hope the afternoon leaves the one hundred guests considering their future voice of possibility.